Publications
TAS Interviews with The Suit Magazine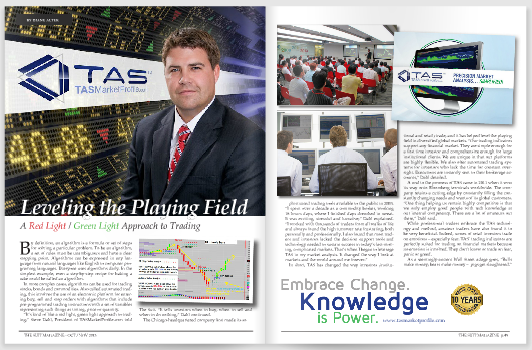 View a free copy of "Rules for Trading," which appeared in the April, 2012 edition of Bloomberg Markets Magazine. Authored by Paul Ciana, CMT, an Equities Application Specialist at Bloomberg, this article discusses how technical indicators from TAS can help you analyze markets and find high-probability, rules-based opportunities.


TAS PRO's Dynamic TAP indicator was featured in Bloomberg Technical Brief on November 21, 2012. Dynamic TAP is an indicator that offers a dynamic picture of balance and imbalance areas by measuring time-at-price, a statistical method for aggregating trading data.
"New Frontiers in Technical Analysis" Book
Buy from Amazon.com
As a featured analyst in Bloomberg' s new book, "New Frontiers in Technical Analysis: Effective Tools & Strategies for Forecasting and Trading", TAS Professional explains it's simplified and effective version of Market Profile®.

This incisive new book features contributions by well-known and respected technical analysts: TAS Professional, Cynthia Kase, Julius de Kempenaer, Phil Erlanger, and Rick Knox.